Jowar Cultivation : An Alternative Crop For Kharif Season
Name : Shri Navneet Sharma
Village : Jakhlon
Block : Birdha
District : Lalitpur (U.P.)
Mob. No. : 9935487447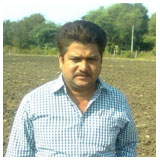 Highlights
Jowar cultivation fetched Rs. 45725 per hectare net profit
Higly remunerative crop for dry land farmers of
Sri Navneet Sharma 38 years old and borned in Village – Jakhlon, Post – Jakhlon, Block-Birdha, District- Lalitpur, U.P. He is very hard working and adopted agriculture after that he is post graduate and law graduate student. He has having land holding of 18 acres. He is doing agriculture since last eight years. He was adopting Urd- Wheat crop rotation which is the prominent crop rotation earlier in the district. In an Farmers Scientist Interaction Programme at KVK, Lalitpur, Shri Sharma asked for an alternative crop rotation to the KVK scientists during Kharif season, as his Kharif 2009 urdbean crop has been failed due to heavy rains. KVK scientists suggested Mr. Sharma to go for Jowar crop in Kharif season intead of Urdbean. Mr. Sharma grow Hybrid Jowar ( Sona NH 21) in Kharif 2010, 2011 and 2013 and got average yield of 40 Q/ha. The cost of cultivation of Jowar crop was Rs. 8875 per hactare and he had got Rs. 49600 per hactare as a profit and got Rs. 5000 per hectare additional income from dry Jowar fodder. In this way Shri Navneet Sharma had got total profit of Rs. 54600 per hactare and net profit of Rs. 45725 per hactare which he could not get from urdbean. In this manner Shri Sharma set an example for farmers of district Lalitpur to adopt Jowar as an alternative crop in place of urdbean for higher income. The area under Jowar crop is increasing day by day in the district during kharif season.

View of Jowar ( Sona NH 21) crop at farmer's field
Growing Of Tomato : A Profitable Venture
Name : Shri Prabhudayal Sen
Village : Khiriamisra
Block : Jakhora
District : Lalitpur (U.P.)
Mob. No. : 07388563436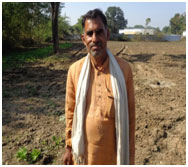 Highlights
Cost of production of tomato per acre is Rs. 13,280/- and net profit earned is Rs. 70,720 per hac. per annum
Tomato is remunerative cash
Sri Prabhudayal Sen is 8th standard pass, 57 years of age having land holding of eight acres and mostly growing only wheat crop on their field from many years at Village-Khiria Misra, Post- Bamhauri Kalan, Deogarh Road, Block-Jakhora, District-Lalitpur, U.P.. From one hac. land, Sri Sen got the production of wheat approximately for Rs. 26,400/- by investing the cost of cultivation approximately Rs. 8,800/- . Only Rs. 17,600/- per hac. is net profit obtained by him.
A turning point came in his life when Sri Sen came in contact with Krishi Vigyan Kendra, Lalitpur since 2009 and got aware about the latest techniques of vegetable cultivation through trainings and demonstrations. After getting the trainings, he started the cultivation of tomato on their own land. He got the gross production of tomato of approximately Rs. 84,000/per hac. by investing total cost of cultivation of around Rs. 13,280/-. The net income Rs. 70,720/- fetches from one hac. land. After inspiring from K.V.K. Lalitpur, Sri Sen increased their area under vegetable cultivation. Over the last four years, he has emerged as a source of inspiration for vegetable growers and farmers are taking keen interest in vegetable cultivation.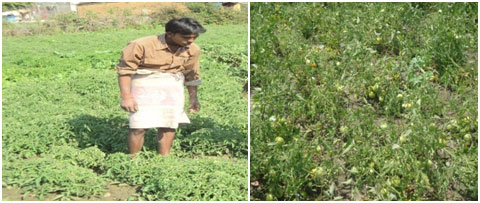 Farmers field of tomato var. Azad T-6